SMOK Novo 5 Review: Compact, High-Performance Vape Pod Kit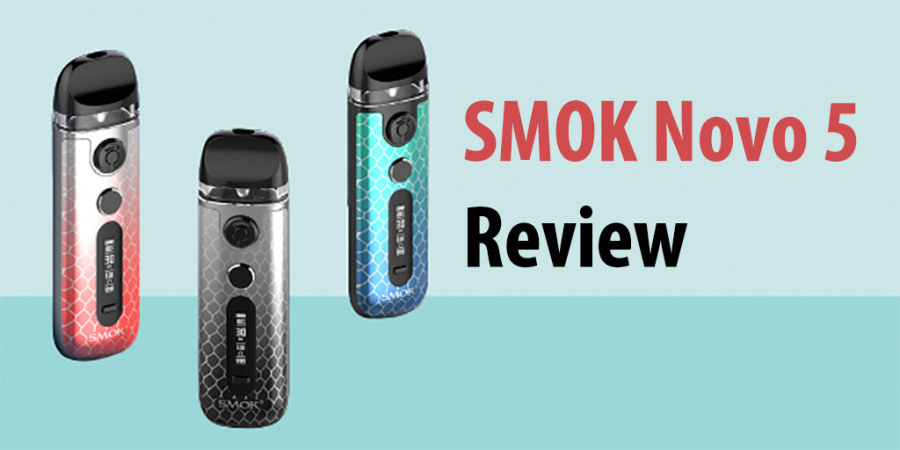 SMOK is a renowned name in the vaping industry, known for its innovative and high-quality vape devices. Among its popular offerings is the Novo series, which has been a favorite among vapers for its compact design and impressive performance. The latest addition to this series is the SMOK Novo 5, a pod kit that promises to deliver a satisfying vaping experience with its advanced features and sleek design. This review will delve into the details of the SMOK Novo 5, exploring its design, build quality, and features.
SMOK Novo 5 Review Summary
The SMOK Novo 5 is a compact and high-performance vape pod kit that stands out in the market. Its sleek and lightweight design, coupled with a variety of color options, makes it a stylish and portable device. The build quality is impressive, with a sturdy zinc-alloy construction and a transparent PCTG pod that allows easy monitoring of e-liquid levels.
The device features a dual firing mechanism and an adjustable wattage range, offering a customizable vaping experience. The improved airflow design ensures a smooth and comfortable draw. Powered by a 900mAh battery, the Novo 5 can support a full day of vaping for most users and can be recharged in approximately 90 minutes.
The Novo 5 comes with 2mL refillable pods and is compatible with 0.7ohm mesh coils, delivering consistent vapor production and rich flavor. The device is easy to use, thanks to its draw-activated firing mechanism and straightforward operation.
When compared to other products, the Novo 5 offers excellent value for money, balancing portability, performance, and battery life. Despite minor drawbacks, such as limited coil options, the device's strengths make it a top choice for anyone seeking a reliable, high-quality vaping experience. SMOK's responsive customer service and the availability of additional accessories further enhance the value of the Novo 5.
Pros and Cons of SMOK Novo 5
Like any product, the SMOK Novo 5 has its strengths and weaknesses. Here's a quick rundown:
Pros:
Sleek and compact design, making it highly portable.
Adjustable wattage range for a customizable vaping experience.
Long-lasting 900mAh battery.
Refillable 2mL pods for cost-effectiveness.
Dual firing mechanism for ease of use.
Improved airflow design for a smoother draw.
Cons:
Battery life might not be sufficient for heavy vapers.
The device only comes with 0.7ohm mesh coils, limiting coil options.
Despite its minor drawbacks, the SMOK Novo 5 offers a host of features and solid performance that make it a worthy consideration for anyone in the market for a new pod kit.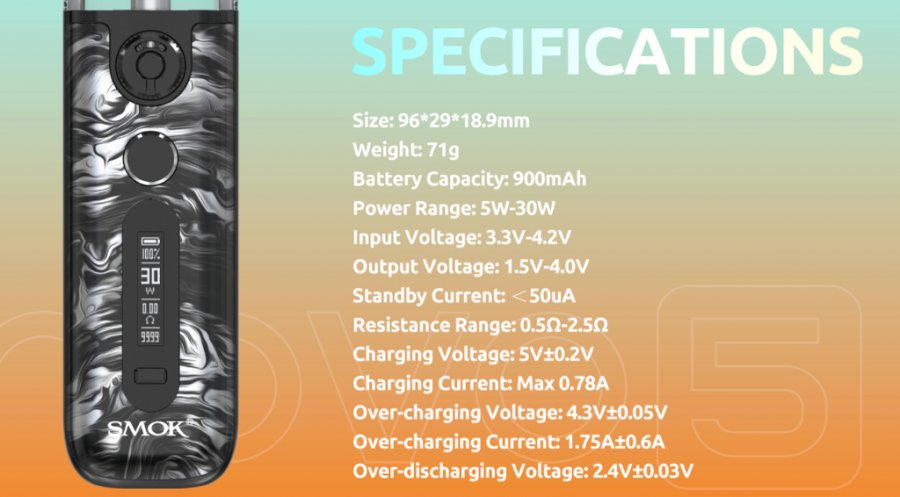 Design and Build Quality
The SMOK Novo 5 stands out with its sleek and compact design. Measuring just 96mm x 29mm x 18.9mm, this device is highly portable, making it perfect for on-the-go vaping. Despite its small size, the Novo 5 doesn't compromise on style. It comes in a variety of colors, including black, silver, blue, red, and green, allowing you to choose a device that suits your personal style.
The build quality of the SMOK Novo 5 is impressive. The device is constructed from high-quality zinc alloy, giving it a sturdy feel without adding unnecessary weight. The pod, made from PCTG material, is transparent, allowing you to easily monitor your e-liquid level. It has a 2ml capacity and features a top-fill design, making it easy to refill without any mess.
Features and Functionality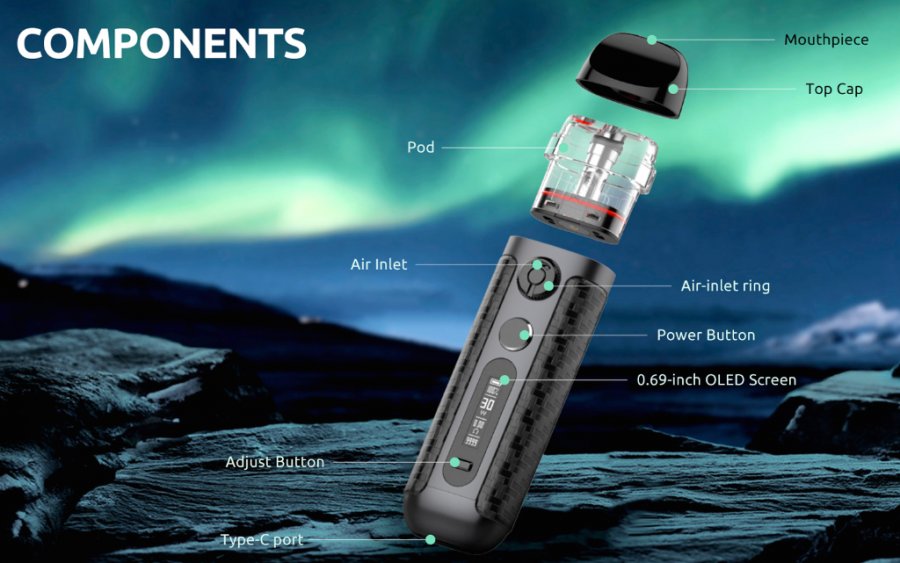 The SMOK Novo 5 is packed with features that enhance the vaping experience. One of its standout features is the dual firing mechanism. You can either press the button to vape or simply draw on the device, offering flexibility and convenience to vapers.
The device also offers an adjustable wattage range from 5W to 30W. This feature allows you to customize your vaping experience to your preference, whether you prefer a cooler vape at lower wattages or a warmer vape at higher wattages.
The Novo 5 also boasts an improved airflow design. This design allows for a smoother and more comfortable draw, enhancing the overall vaping experience. The device also features an LED indicator that displays the battery level and charging status, ensuring you're never caught off guard by a dead battery.
Additional Accessories
For those who like to customize their vaping experience, SMOK offers a range of accessories for the Novo 5. These include different types of pods and coils, allowing you to tailor your device to your vaping preferences.
Battery Life and Charging
Powering the SMOK Novo 5 is a built-in 900mAh battery. Despite its compact size, this device offers impressive battery life, capable of supporting a full day of vaping for most users. This makes the Novo 5 an excellent choice for those who need a device that can last throughout the day without requiring frequent recharges.
When it does come time to recharge, the Novo 5 doesn't keep you waiting. The device comes with a USB cable for charging, and it takes approximately 90 minutes to fully recharge the battery. The LED indicator on the device keeps you informed about the battery level and lets you know when it's time to plug in the charger.
Pods and Performance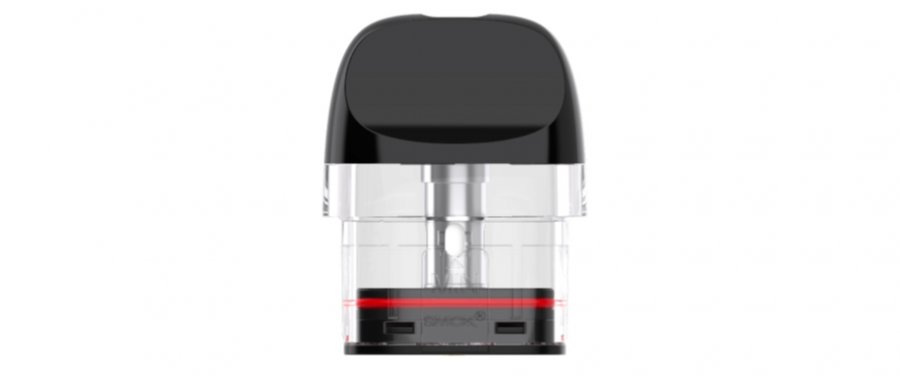 The SMOK Novo 5 comes with 2mL refillable pods, offering a balance between capacity and compactness. The pods are easy to refill thanks to their top-fill design, making it a breeze to top up your e-liquid whenever needed.
The Novo 5 is compatible with 0.7ohm mesh coils, designed to deliver a satisfying mouth-to-lung vaping experience. The mesh design ensures even heating and excellent flavor production, making every puff a delight. The device's performance is smooth and consistent, with impressive vapor production and rich, full-bodied flavor.
Performance Over Time
While the SMOK Novo 5 impresses with its initial performance, it's also built to last. The device maintains its performance over time, delivering consistent vapor and flavor even after months of use. This longevity is a testament to SMOK's commitment to quality and durability.
Ease of Use

One of the key selling points of the SMOK Novo 5 is its ease of use. The device features a draw-activated firing mechanism, meaning you can simply puff on the device to vape, eliminating the need for pressing any buttons. This feature is particularly convenient for those who prefer a more intuitive and straightforward vaping experience.
Operating the device is also straightforward. The adjustable wattage can be easily changed to suit your vaping preference, and the LED indicator keeps you informed about your device's status at a glance. Whether you're a beginner or a seasoned vaper, you'll find the SMOK Novo 5 easy to use and enjoy.
User Experience
The SMOK Novo 5 is not just about performance and features; it's also about providing a seamless user experience. The device fits comfortably in the hand, making it a pleasure to use. Its lightweight and compact design make it easy to carry around, whether in your pocket or purse. The top-fill design of the pods makes refilling a breeze, reducing the chances of messy spills. Overall, the SMOK Novo 5 offers a user-friendly experience that enhances the joy of vaping.
Comparison with Other Products
When compared to other products in the market, the SMOK Novo 5 holds its own with its unique blend of features and performance. For instance, the SMOK Novo Bar AL6000 Disposable is a convenient and portable option, but its battery life doesn't match up to the Novo 5. On the other hand, the SMOK RPM C offers a larger battery capacity and pod capacity, but it's not as compact or lightweight as the Novo 5.
The SMOK Novo 5 strikes a balance between portability, performance, and battery life, making it a versatile choice for vapers. Its improved airflow design, longer battery life, and refillable pods give it an edge over many other devices in its category.
Value for Money

Considering its features, performance, and build quality, the SMOK Novo 5 offers excellent value for money. It stands up well against other devices in the same price range, often outperforming them in terms of battery life, vapor quality, and ease of use.
Where to Buy
The SMOK Novo 5 can be purchased directly from the SMOK website or from reputable vape shops. Always ensure to buy from trusted sources to guarantee the authenticity of the product. Prices may vary depending on the retailer, so it's worth shopping around to find the best deal.
Customer Service
SMOK is known for its responsive and helpful customer service. If you encounter any issues with your Novo 5, you can expect prompt assistance from their team. This commitment to customer satisfaction adds another layer of confidence when choosing the SMOK Novo 5.
Conclusion
In conclusion, the SMOK Novo 5 is a well-rounded pod kit that offers a blend of style, performance, and convenience. Its compact design, long-lasting battery, and adjustable wattage make it a versatile device suitable for a wide range of vapers. Whether you're new to vaping or looking for an upgrade, the SMOK Novo 5 is a worthy contender. Its minor drawbacks are easily outweighed by its numerous strengths, making it a top choice for anyone seeking a reliable, high-quality vaping experience.
About The Author
James L. is a freelance writer who has published many articles on vaping, including reviews and vape guest posts. He love writing and vaping.
---
More to Read:
---